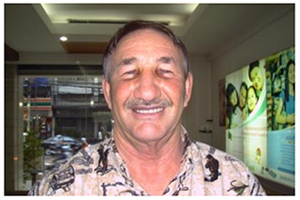 "Let me first say that the staff is very efficient, friendly and helpful. My teeth right now feel a lot more comfortable and it has only been TOTALLY 6 days from my poor old natural teeth to very strong teeth with new ALL on 4 implants!!
My experience in your clinic was very relaxed and was always made to feel as comfortable as possible under the conditions. The doctors where very informative and understanding towards my needs. Special thanks to Dr. Bob and Dr. Rudjapas who did All on 4 implants. I feel he went out of his way to make me feel at home and he succeeded I feel like i have new Friend! Now I can chew and taste my food properly again. That's probably the most important thing, after all"
John Lever Canada
He had serious gum problem. He visited his gum dentist many times for various kind of special gum treatments. He paid a lot to keep them. Unluckily, his teeth were still weak, and he was devastated and fell into depression. The turning point came when he had All on 4 immediate dental implants installed. Full fixed strong permanent teeth were fitted in both his jaws in only 3 days after the implant inserted. He was overwhelmed by the result.